1971: Village Laguna Is Founded
1971: Village Laguna Is Founded
---
From Village Laguna's first newsletter in February 1977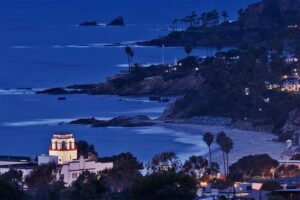 Village Laguna Chairman Fran Engelhardt wrote "Since February 1971, Village Laguna has confronted at least a hundred issues, supporting some, protesting others, and producing innovative ideas, but always with dedication toward its goals—to preserve and protect the village atmosphere, the unique and charming community character, the environment, and quality of life in Laguna Beach. The developers do not sit idly by while we who live here enjoy what we have; it takes constant attention to what is occurring locally as well as on County and State levels and the awareness and participation of all of us to maintain our village."
From the beginning, Village Laguna held monthly meetings and periodic town hall meetings (among them one in January 1977 on the proposed widening of Laguna Canyon Road, in which speaker after speaker opposed the widening and suggested alternatives) and put out an in

formative newsletter on city issues. It stopped the Irvine Company from running a road through Boat Canyon to the coast, saved the star pine on the North Coast highway, and halted a development of 721 units above Morningside Drive. It researched the proposals before the City Council and took positions for or against. It
 commented, among other things, on the EIR for Sycamore Hills (where the Dilley Preserve and Club Laguna/The
 Terraces are today), on the Downtown Specific Plan, and on an ordinance for rezoning the city's mobilehome parks to help residents keep their homes.
In the June 1977 newsletter, Fran Engelhardt explained why: " 'Citizen participation' is an expression that is heard more and more frequently to define a vital need in our democracy. Nowhere is this more important than where we live, in Laguna Beach and Orange County. . . . Unless we write, phone, attend, and speak out during all the deliberative processes and not just during the final actions or public hearings, our city council members and our supervisors are out of touch with the citizens who elect them as their representatives."

In the early days, if you considered yourself a Village Laguna member you were one, and routine functions were handled by a steering committee of charter members, with decisions reflecting consensus rather than a simple majority. Over the years, membership dues were introduced, and an elected board began meeting monthly for an hour to set the agenda for the monthly membership meeting. Eventually board meetings moved to Saturday mornings and stretched to several hours, and the board began making policy decisions for the group.
Village Laguna cosponsored the Save Laguna Canyon Walk in November 1989, supported the "Tell," an assemblage of photographs by Mark Chamberlain that drew attention to the Irvine Company's plans for development in the canyon, and gathered signatures for the bond measure that allowed the city to buy much of the canyon for preservation as open space. Later it contributed $5950 to the initial operating costs of the Laguna Canyon Foundation, founded to raise funds for completing the purchase of the canyon.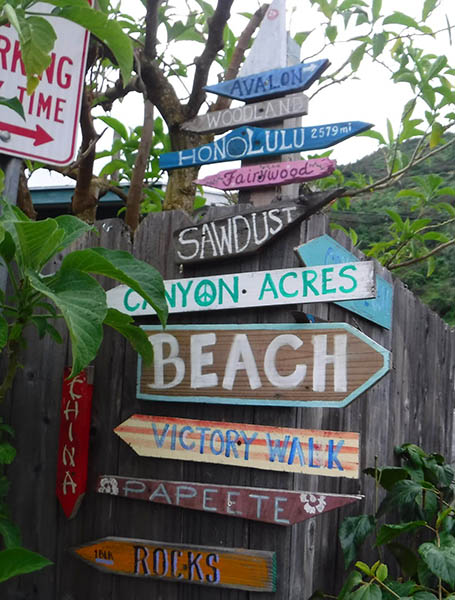 With the Laguna Canyon Conservancy, the Laguna Greenbelt, and other organizations, it cosponsored the 1991 Toll Road Awareness Day, a walk in opposition to the toll road that would eventually bisect our canyon. Part of the event was covering a swath of land with bedsheets the width of the proposed roadway—the Great Canyon Coverup. Village Laguna also raised $5,000 to contribute to a legal challenge to the toll road EIR.
In these same years, Village Laguna initiated a campaign to encourage shopping locally called "Love Laguna—Shop Laguna." Part of the campaign was the Great Walk-about, a Saturday event involving a dozen merchants along South Coast Highway including refreshments and a door prize contributed by the Chamber of Commerce. For a long time thereafter, the monthly newsletter carried a piece on a local business, and under the pressure of the recent recession this practice has been resumed. Since 2009 the Village Laguna Newsletter has featured appreciative descriptions of more than thirty local businesses.
In the mid-1990s Village Laguna helped sell bricks for the beautification of Forest Avenue Alley, "adopted" 38 survivor families of the 1993 fire and raised $4,000 for injured firefighters, opposed the proposed airport at El Toro, raised $2,500 to help the South Laguna Civic Association fight a hillside development, gathered signatures for the Laguna Greenbelt's open space initiative to protect 1,100 acres of publicly owned land for thirty years, and held a Pretty Dog Contest to raise money for the Schoolpower Bankruptcy Recovery Fund. It produced three issues of an ambitious local newspaper called the Pelargonium. It designed and produced a brochure called "Self-guided Tour Laguna by Bus" and, with the Heritage Committee, a companion brochure identifying historic houses along the bus routes, the idea being both to boost bus ridership by visitors and to call attention to Laguna's heritage.
When the proposal for a resort at Treasure Island surfaced in 1996, Village Laguna studied the proposal and commented on the need for lower buildings, ample green space, no exemptions from city land-use standards, and park rather than residences. With the South Laguna Civic Association, it mounted a referendum on the proposal that produced a 45 percent vote against it and then continued to monitor the detailed planning for the project to secure view corridors and more public space.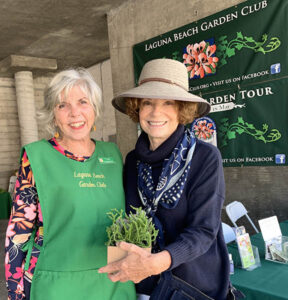 Under the leadership of Village Laguna member Jeannette Merrilees, it helped to persuade the state to abandon its plans for a resort hotel at Crystal Cove. It supported the winning design for the Village Entrance. It lobbied successfully for acceptance of a beach access easement at Smithcliffs. It led a fund-raising campaign to restore the rocket-ship slide at Bluebird Park. It joined other environmental organizations in opposition to the idea of extending the golf course at Aliso Creek into the Aliso and Wood Canyons Wilderness Park. It held a flea market to raise $4,000 for survivors of the Bluebird Canyon landslide, and supported Measure A, the temporary emergency sales tax to pay for the landslide repairs. It sponsored a showing of Al Gore's film An Inconvenient Truth and distributed CFL bulbs as a small step toward slowing global warming.
When the Athens Group announced its plans for development at Aliso Creek Inn in 2007, Village Laguna held a workshop on the proposal that produced consensus among participants that any development there should preserve local access and be appropriate in scale and density to the natural setting. It arranged for an open house on the property that allowed some 800 participants to get better acquainted with the canyon and consider its future. Later, commenting on the EIR for the proposal, it advocated consideration of an alternative that would exclude residential development, confine new construction to the existing footprint, and conform to the General Plan.
In response to the SUPER Project, a proposal of the U.S. Army Corps of Engineers to build 26 dams along Aliso Creek to protect the sewer pipes alongside it from erosion, in 2009 Village Laguna joined the Laguna Greenbelt, the Laguna Canyon Conservancy, the South Laguna Civic Association, the Democratic Club, and several neighborhood organizations in arranging for a bus tour in Aliso and Wood Canyons Wilderness Park to give participants some idea of how the park would be impacted by the project.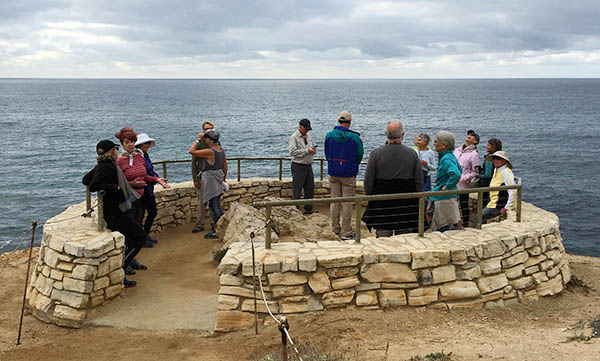 As members of the Laguna Bluebelt coalition, Village Laguna members attended countless public hearings on the designation of marine life preserves along our coast and were gratified by Council support for a citywide preserve and the eventual designation of the coast from Abalone Point to Secret Cove/Table Rock as a state marine reserve or its equivalent.
At the same time, Village Laguna members also encouraged the preservation of a number of buildings on the City's historic inventory that were threatened with demolition, often producing historical materials to support their case. It urged the Design Review Board to consider public views in approving the design of a new house for Abalone Point, the first thing you see on entering Laguna from the north. It heard from Colin Henderson about Friendship Shelter's proposal to create permanent housing for the long-term homeless. It celebrated the contributions of Arnold and Bonnie Hano, Carolyn Wood, and Elisabeth Brown as "Villagers of the Year." It congratulated the City Council for the measures the City has taken to meet its commitment to the U.S. Mayors' Agreement on Climate Change and suggested additional steps. With Transition Laguna, it conducted a recycling tutorial that showed us that recycling is easier than ever and we can recycle much more than we think.
Throughout its forty-plus years, Village Laguna has conducted a Charm House Tour that showcases some of the distinctive homes that make up the community's village character and draws some 600 participants every year. It has used the money to support candidates for City Council who share its views on the importance of preserving and enhancing the unique village character of Laguna Beach.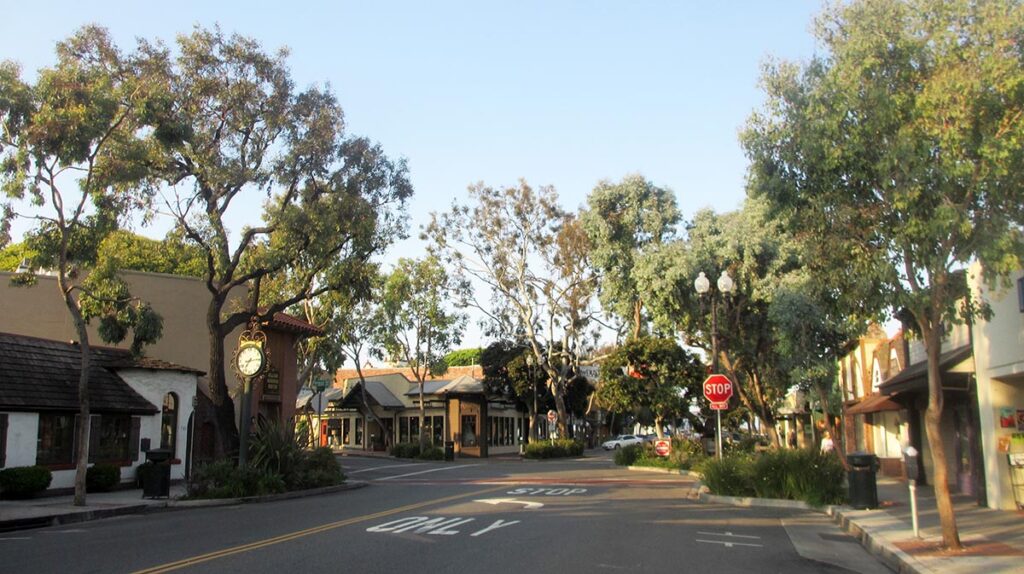 In the Village Laguna Newsletter, Aug. 2011, Arnold Hano wrote: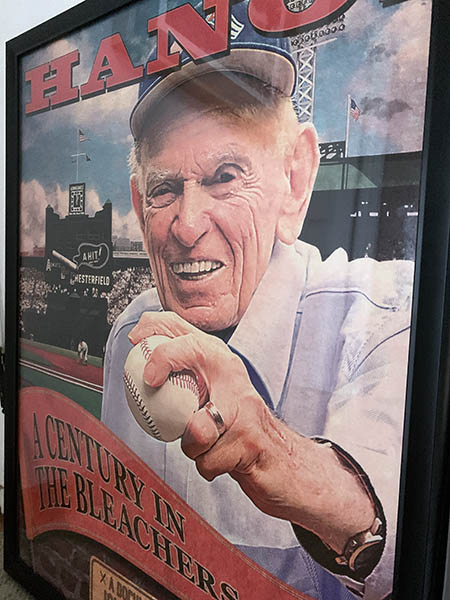 "The day after our initiative victory in 1971, the Yes on August 3 Committee dissolved itself and immediately regrouped as Village Laguna. The name came from Ralph Benson. I was chosen to serve as its first president.
We began to meet in members' homes. We had members but no membership cards. We paid no membership dues. We had no by-laws. When we sought to take some action we seldom counted noses. We used a system similar to the Quaker "sense of the meeting." Very close votes—10 to 9, 18 to 16—tended to split the group. We sought consensus. It would be years before we would incorporate ourselves.
When I look back, I think the old days were better. We had a sense of empowerment. When we used the words "village atmosphere," the other side trembled. We won elections. Phyllis Sweeney became a Council member and the first woman mayor of Laguna Beach. Yes, Helen Keeley had won a seat before Phyllis, but I guess the four guys on the Council could not go the next step and ever vote her mayor. Phyllis became mayor and started a marvelous line of women mayors, many from Village Laguna: Sally Bellerue, Bobbie Minkin, Lida Lenney, Ann Christoph, Toni Iseman.
Eventually, of course, the pendulum swung back. Every candidate for the Council learned to say "village atmosphere." They all became "environmentalists." Of course, they caved in when faced with yet another mansion. So it goes. That is the nature of a pendulum. And no matter, they can't erase the 40 years of low-rise.
Perhaps the number 40 isn't as catchy as 25 might have been, or 50 or 100 It's such a routine number. Yes, it's 40, a number both sacred and profane. God's wrath dropped rain for 40 days and nights to launch Noah on his way to a better world, he and his family and his cargo of every animal species. Moses talks about the Jews' wandering for 40 years in a wilderness. Jews fasted for 40 days and nights. On the other side, Lizzie Borden killed a parent with 40 whacks and then the remaining parent with 40 whacks plus 1. And 40 is also mundane. Walter Pitkin glorified middle age with his book Life Begins at Forty.
I can't conceive of a future beyond, let's say, next Thursday. Fifty years will be well beyond my reach. So I think it's a good thing that it's 40 years. We'll toast 40 and hope that another 40 will follow and our village will remain a village, Laguna will remain Laguna.
We will come together on September 12, at a dinner at Tivoli Terrace in a spirit of fellowship. We should pledge to honor not just the words "village atmosphere" but the concept. We must honor human scale. Big is not necessarily better.
We will bring together again that band of brothers and sisters who back in 1971 stood up to power and, in fact, wrested it away from those who thought they were invincible.
The poet Ralph Hodgson wrote: "Time, you old Gypsy Man, will you not stay?" And the answer is clear: No, Time will not stay. Time will not stop. Time is inexorable. But memory will stay. Memory will stop. Memory will remain until it becomes history. We honor that memory and the makers of that history.
What we all did was to make sure we can always see our ocean. It must never be otherwise. That is our honor. This is our pledge."