Village Laguna sponsors many constructive community events and projects, some for free, some to raise money for issues, causes, and candidates.
2021 — Henry Morgan Stewart
2020 — Kenya Ripley-Dunlap
2019 — Charles Dickerson
2018 — Charlotte Hoffs
2017 — Alexandria Hinmon
2016 — Kara Dunne-Dombrink
2015 — Charlotte Andrews
2014 — Maya Keces
2014 — Jeannette Merrilees scholarships to:
2014 — Rory Saunders and Hannah Martin
2013 — Ava Eastman
2012 — Juliana Ferguson
2011 — Paul Donne-Dombrink
2010 — Nia Evans
2009 — Samuel Meyers
2008 — Matthew Ininns
2007 — Marshall Thomas
Approximately every other year since 2009, Village Laguna chooses dedicated local activists devoted to Laguna Beach causes and honors them with a dinner party. Past honorees were Bonnie and Arnold Hano in 2009, Elizabeth Brown and Carolyn Wood in 2011, and Verna Rollinger and Colin Henderson in 2013.
Every other year, Laguna Beach holds City Council elections. Because of Village Laguna's commitment to preserving and enhancing both the character and heritage of Laguna and the habitat that surrounds it, we financially support City Council candidates that most closely agree with these values.
Every year, we hold a picnic, usually on Aliso Creek Beach, open to anyone who wants to come.
We build a fire and provide hot dogs and beverages. Participants bring potluck dishes and their
own plates and utensils. A great time is had by all!
Every year, Village Laguna awards grants to worthy organizations.
Pamela Lawrence of the Laguna Beach Community Clinic said after receiving the Dec. 2016 donation from Village Laguna: It is truly remarkable that a fellow nonprofit marks the Holiday season by donations to other local nonprofits! . . . Village Laguna is indeed an amazing "Force" in this town.
Also, every year since 1978, Village Laguna has awarded a scholarship to a LB High School graduating senior who shows leadership and involvement in activities that protect the environment and promote humanitarian goals.
South Laguna Community Garden Park
CCC Laguna Day Workers
Laguna Canyon Foundation
Laguna Bluebelt
Laguna Beach Community Clinic
Friendship Shelter
La Playa Center
Laguna Food Pantry
Laguna Beach High School Scholarship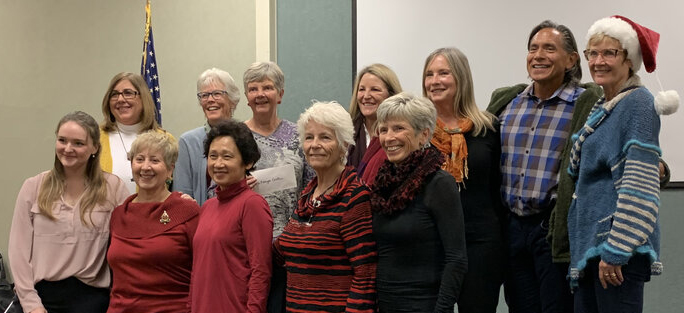 Recipients Include (L to R):
Front Row: Sydney Jones, Laguna Canyon Foundation; Johanna Felder, Village Laguna President; Lidia Mandala, Laguna Beach Community Clinic: Charlotte Masarik, Laguna Bluebelt; Ginger Osborne, Laguna Beach High School Scholarship
Second Row: Dawn Price, Friendship Shelter; Bonnie Tender, Day Workers; Janet Waters, La Playa; Ann Belyea, Laguna Food Pantry; Sally Coffey and Ruben Flores, South Laguna Community Garden; Mary Ives, Village Laguna Treasurer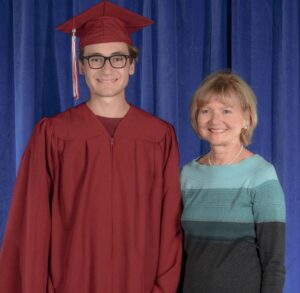 Laguna Beach High School Senior Charles Dickerson received his 2019 Village Laguna Scholarship from Village Laguna's Judy Teverbaugh. During a course in Environmental Studies at Saddleback College, Charles became acutely aware of climate change, water and air pollution. That course inspired him to start an Environmental Awareness Club at LBHS. Propelled by his enthusiasm, he inspired his club to work on ecological restoration in the saltwater marsh of Upper Newport Bay. Charles's studies at LBHS in Advanced Chemical Research shaped his desire to promote a positive effect on our environment. He plans to major in Chemical Engineering and Environmental Studies at Irvine Valley College. Congratulations to Charles!