Village Laguna and Laguna Beach
The Truth about Village Laguna
Column by Ann Christoph in 11/17/17 Laguna Beach Independent
It's Just the Perception: The truth of the matter is something else again. How do urban legends/false perceptions live on? Do people really believe false statements if they are said often enough? The past elections proved that they do, but somehow I thought Laguna would be different, that we are small enough that there are independent ways for people to glean the truth for themselves. Last week I was proven wrong and it was so upsetting that I couldn't write my column. I had to wait to let it settle in my mind.
I was invited to be part of a group interview with the consultants for the Arts Commission's Creative Placemaking project, which is to "assist in determining how the City can ensure Laguna will remain a vibrant arts and creative community."
To get background on our community they wanted our group of Lagunans to talk about the status of the arts in town, the issues we face, and what our hopes are for Laguna Beach of the future. Our diverse group included an artist, photographer, architect, realtor, gallery owner, restaurant owner, former arts commissioner—earnest, involved people who had obviously been thinking about these matters for awhile. This is some of the discussion:
The core of an arts community is artists, but how can they continue to be in Laguna when the cost of housing is so high? How can the next generation of artists survive?
Solving this is key to maintaining Laguna's soul. The early artists came here because of the beautiful and dramatic landscape, the quality of the light, and creative atmosphere. Their work came from the spirit of the place. That connection is key to keeping the art of the festivals genuine and honestly innovative and keeping the galleries from being just outlets for works produced elsewhere.
What facilities are available for the arts? And do we need a new facility—an arts center?
The general consensus was that there are many underutilized facilities in town. The city would better spend its funds to subsidize and coordinate the full use of existing spaces before thinking about a new building.
We told the story of the Greenbelt, appreciating the natural frame it creates around town and how the community fought so hard to preserve it.
There was a lot of talk about the downtown. Some thought that it was not lively enough, that Laguna had lost its "edge" of years past, and urged converting Forest Avenue to a pedestrian plaza like the trial one at Park Avenue and Coast Highway.
Then, amid all the productive talk about our future, came this startling comment, "But there is a group in town that just says no to everything and the Council placates them way too much." There were nods all around. "Really? And what group are you talking about?" I asked. "Of course, everyone knows—it's Village Laguna." Without the work that Village Laguna has done and continues to do, we would lose the special Laguna character the group had praised earlier in our discussions, I maintained.
Since I have been on the board of Village Laguna for years, I know the untruth of both parts of their accusation. We say yes a lot. We support preservation of the Greenbelt, and urged creation of Main Beach Park. We supported the larger park at the Montage that everyone now appreciates. Our members helped write the Downtown Specific Plan, and we are working with the Chamber of Commerce to update it. We were active in obtaining the national recognition of Laguna and the Greenbelt as a Historic American Landscape. We say yes to saving and planting trees, and beautifying our town. We say yes to historic preservation, key to maintaining the distinctive character of Laguna.
We do say no sometimes, but was it really so bad to say no to high-rise buildings along our coast when we supported the 36' height limit city wide in 1971? Or when we say no to intense oversized development that will damage neighborhoods and the image of our city?
And we don't get placated. We work very hard to understand the issues facing us, and present thoughtful responses and suggestions. When the village entrance design was proposed to be just a parking lot with a narrow landscaped path instead of a park, we joined with the Beautification Council and developed a plan with more generous landscaped spaces. We illustrated what could be done and submitted it to the city. We strive to contribute and work for positive solutions, but only sometimes are our efforts successful with the council.
Sometimes I think council members are reluctant to agree with us. Would they be accused of being on "our side" because of pervasive impressions such as those I had just heard? How sad that we seem to have "our side" and "the other side" when we should all be working together for the protection and betterment of our very special town. The false perceptions seem very difficult to change.
[Ann Christoph is a landscape architect and former mayor and city council member. She has been an active community volunteer since 1971 and is involved with many committees and organizations including Village Laguna and South Laguna Civic Association.]
Laguna Beach and its Greenbelt Designated a Historic American Landscape
From an article in Stu News, Jan. 10, 2017. "Laguna Beach and Laguna Greenbelt declared Historic American Landscape by National Parks."
Laguna Beach and the Greenbelt have been recognized as a Historic American Landscape by the National Parks Service, Department of Interior.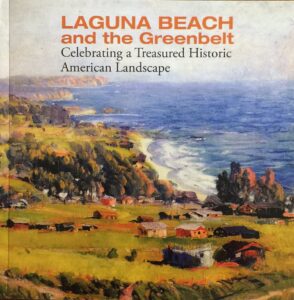 Documentation of the designation, including written history, maps, photographs and painting reproductions, will
be permanently housed in the Library of Congress. 
"This national recognition confirms what we know – our unique town is a treasure," commented Mayor Toni Iseman. "We need to be dedicated to preserve what those before us created. Future generations will thank us for our historic town and the Greenbelt we fought so hard to preserve."
Laguna Greenbelt's annual meeting will present "Laguna Beach and the Greenbelt, Celebrating a Treasured Historic American Landscape" on Feb 15 at 7 p.m. at the Congregational Church, Bridge Hall, 340 St. Ann's Drive. A book by the same title will be available that evening. The public is cordially invited. 
Laguna Beach and its Greenbelt are worthy of designation as a Historic American Landscape because its beautiful and dramatic natural landscape setting is intricately related to the community and artistic tradition that grew from it. Its geological formations, natural vegetation and coastal location attracted artists beginning around the turn of the last century. 
The artistic influence and the character of the landscape shaped the qualities of the town, village environment and the unique community that has descended from it. Laguna's history, including isolation from other development, its role as arts colony, and its leadership in environmental preservation all stem from the characteristics and disposition of the landscape itself. 
The presentation and book elaborate on these complex and remarkable interrelationships.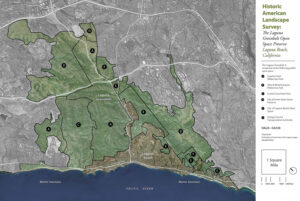 In cooperation with the Library of Congress, the National Park Service administers the Historic American Buildings Survey (since 1933), the Historic American Engineering Record (since1969), and the Historic American Landscapes Survey (HALS), begun in 2000 in cooperation with the American Society of Landscape Architects. 
These programs encourage and facilitate the documentation of the history and characteristics of important buildings, engineering projects, and landscapes. More than 40,000 structures and sites have been documented nationwide. The archives produced through these programs are housed in the Library of Congress. 
Since the beginning of the HALS program in 2000, 700 sites have been designated nationwide. Examples include Golden Gate Park; Bidwell Park, Chico; Camp Curry, Yosemite; Rancho Los Alamitos, Long Beach; California missions; Washington Monument grounds; and Mount Vernon. 
The application of HALS to a large landscape like Laguna Beach and Greenbelt was unusual, but the National Park Service was impressed with the relationship of Laguna's natural landscape to the plein air artists, and the traditions that have led to the growth and preservation of our unique community.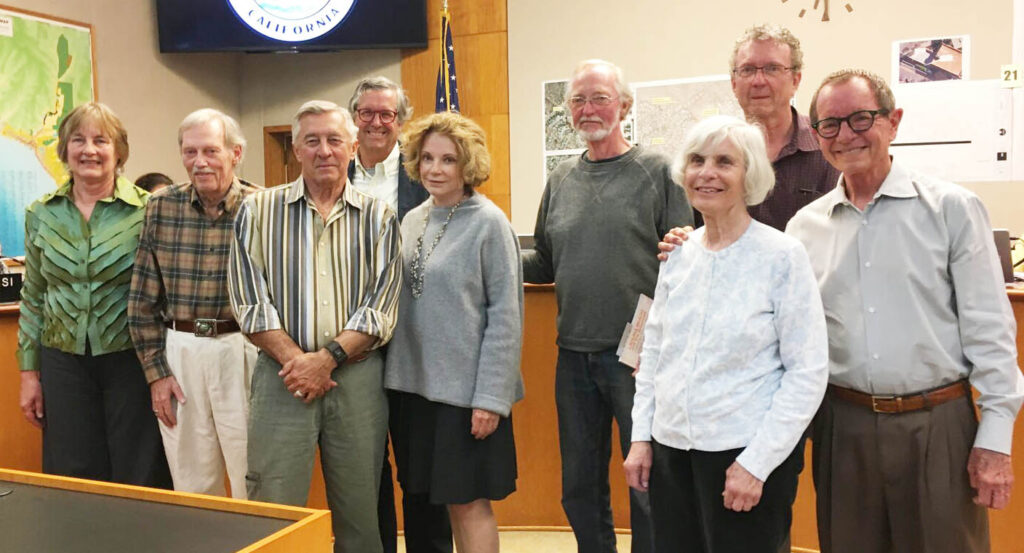 The Committee for Preservation of the Laguna Legacy, chaired by Ron Chilcote, prepared the submittal for the Historic American Landscape Survey. Members included Barbara Metzger, writer and editor; Ann Christoph, writer; Tom Lamb, graphic design, photography and collections; Mark Chamberlain, photography and collections; Eric Jessen, art history and collections; Verna Rollinger, Bob Borthwick and Harry Huggins Greenbelt history and mapping. Alison Terry, representative of the American Society of Landscape Architects, advised and coordinated submission of the materials to the National Park Service. 
[Note that many of those on the Committee for Preservation of the Laguna Legacy are members of Village Laguna.]